When it's time to prepare for the future – we have a range of options that can save you thousands
Quick Facts• Solar heated water is a green renewable approach that is well established and proven
• On average you can cut your C02 emissions by over 600kg every year
• Sunlight is free – until the Chancellor can find a way of taxing it!
• Once you have paid for the installation your hot water heating costs will be reduced throughout the year
• Ideal for all types of heating appliance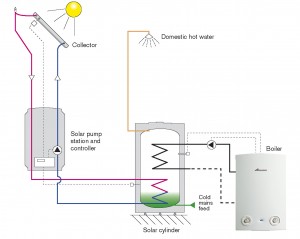 A solar thermal system converts the suns energy into heat that is then transferred to a solar cylinder, ensuring your boiler or immersion heater does not have to work so hard.
The sun does not have to be shining to make the system work, and even on a cloudy day you will notice that your heating costs will reduce.
The system works all year round, but you will need to help the heating along a little during the winter months.
A good installation is the secret to getting the best performance – we only supply the very highest quality of equipment and match it to your existing boiler and hot water storage system.
For more information call our Service Team on 01249 709024.